Chihiros VIVID II - RGB - Bluetooth Controlled
Chihiros RGB VIVID II is a modern LED pendant lamp for aquariums that highlights the full color of both the aquatic plants as of the animals that live in accords. The arrangement of the red, green and blue LED's in one LED chip ensures the most natural possible color reproduction of light and favors optimally plant growth.
Thanks to its brightness and light output, the lamp is also an excellent choice for densely planted aquariums or for plants with special lighting requirements. With its light output, the lamp is designed to Aquariums with a length of 60 to 90 cm and is characterized by Long useful life of its LED's.
The RGB VIVID 2 has a controller Bluetooth pre-installed. This distinguishes it from RGB VIVID I, which requires programming of an external device, the Commander 4.
The VIVID II Integrated Controller allow that lamp is operated by "My Chihiros APP" and allows individual programming of the daily schedule. Through the application settings, the brightness temperature . color and the 3 color channels can be easily switched, so that, for example, sunrise and sunset can be easily simulated.
It contains a built-in fan that actively cools the lamp during operation.
Suitable for aquariums of 60-90 cm.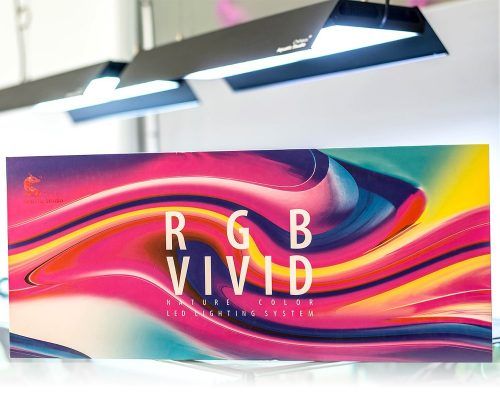 Technical data
Energy consumption: 130W
Number of LEDs: 160 parts
Flow of light: 5.500 lumen
LED colors: RGB 3 in 1
Power input: AC100 - 240V, 50 - 60 HZ
LED lifespan: more than 50.000 hours
Operating temperature: -20 ~ 40 ° C
Protection class: IP IP43
Use: The lamp is splash protected of water and can therefore be safely installed over open aquariums. It is not suitable for installation under a roof.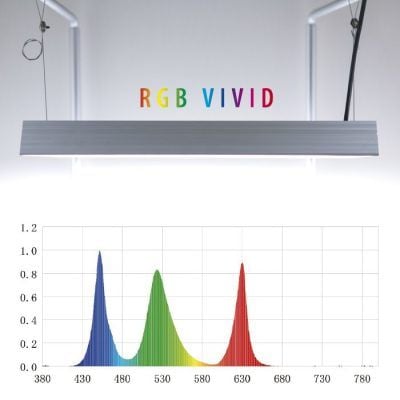 Size
Length 455 mm
Width 162 mm
Height 34 mm